For the technophiles around the globe, a tablet cum phone has become a must have. Gone are those days when they were considered something exorbitant with prices hovering near 30,000. Gradually the prices are going down as more and more players are joining the game. We bring to you the 5 latest and affordable tablets with price under 15,000.
Ideapad Tablet A1
This 7 inch tablet from Lenovo runs on a 1 GHz Nvidia Tegra processor coupled with 1 GB of RAM which can seem a little underpowered for a tablet but it is good enough for this price range. Its 7 inch LED screen has a resolution of 1280 x 800 which has better quality than any other tablet in its price range. It comes with an internal storage space of 16 GB which can be expanded using a micro SD card slot. The only gripe about this tablet is, it runs Android 2.3 Gingerbread which is not the latest version of Android. It has dual cameras (3 MP on the back and VGA at the front) for clicking pictures and videos as well as for video chatting. Lenovo Ideapad Tablet A1 is priced at INR 15,369 which makes it the best tablet for the price range of around 15K till the Google Nexus 7 launches officially in India.
Viewsonic 10s
Viewsonic 10s is a 9.7 inch tablet with a 1 GHz ARM Cortex A8 based dual-core processor and 512 MB DDR2 RAM. It runs on Android 2.3 Gingerbread like all other tablets in its price range and has 4GB of internal memory. Its 9.7 inch IPS multi touch screen has a resolution similar to the 1st and 2nd generation Apple iPad with an aspect ratio of 4:3. Sadly, this tablet comes with only one camera that can capture pictures of 1.3 MP and shoot HD videos. It can playback wide variety of video formats such as DivX, MP4 and Flash which can then be enjoyed on other large screens such as LCD TVs through its Mini HDMI output. The Viewsonic 10s is priced at INR 15,400.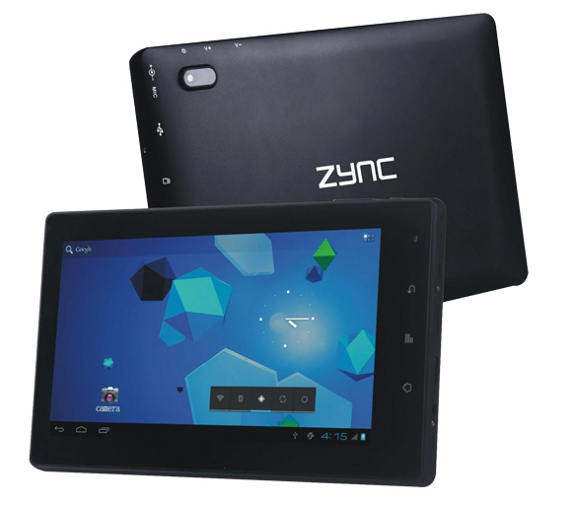 This tablet is very similar to Micromax Funbook as it has a single-core 1.5 GHz processor coupled with 512 MB of RAM. It runs Android 4.0.3 and can run most of the complex apps and graphically rich games as it has Mali-400MP GPU which is also present in high end phones such as Samsung Galaxy S2 and Samsung Galaxy S3. The things that make this tablet better than the likes of Micromax Funbook is that, it has dual cameras (2MP at the back and VGA at the front), Bluetooth and 3G connectivity that others lack. This tablet can be bought for INR 11,880 from online stores.
Micromax Funbook
Micromax Funbook is the cheapest tablet in the market which comes with Android 4.0.3 but it doesn't compromise on the processing power as it has a 1.2 GHz ARM Cortex A8 processor with Mali-400MP GPU along with 512MB of RAM which lets you play heavy games and use complex apps with ease. It has a 7 inch WVGA capacitive multi-touch screen and a VGA front-facing camera which can be used for video chatting. It comes with 4GB of internal memory and can be expanded through memory card slot. Although it can only be connected to Internet through Wi-Fi, it also supports 3G Dongle through a full sized USB port. Micromax Funbook is available at a price of INR 5,959.
HCL ME Tablet X1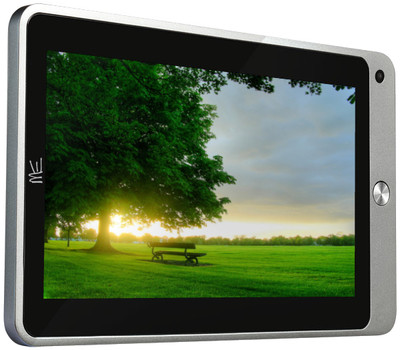 This tablet has a single-core 1 GHz processor with Mali-400MP GPU coupled with 512 MB of RAM. It has 7 inch capacitive LCD multi-touch screen and runs Android 2.3.3 Gingerbread. It has dual cameras (2MP at the back and VGA at the front) for clicking pictures and recording videos. It supports Internet connectivity through Wi-Fi and 3G Dongles. Other than that, it comes loaded with E-Learning with 2D & 3D content for students till high school education. This tablet can be bought for INR 11,999 online and physical stores.
Summary
These are some very good devices flooded with latest technologies, a handy bonus for those who do not like to carry multiple devices. With the price ranging from 10k to 15 k it's not even harsh on your pocket. The advanced features like latest OS, smooth processors make them totally irresistible. Go and grab one of these if you haven't already.
About The Author
Ashwin works with Mysmartprice.com which is a price comparison website that helps users find the best price of mobiles, books, camera and lots more. Ashwin is a graduate of State University New York with an MS in Information Systems and an MBA from Amrita School of Business Bangalore. He writes on smartphones, gadgets, technology , ecommerce and marketing.