Siri is hitching a ride in the 2013 Chevrolet Spark and Sonic LZ and RS, with support for the voice control system in the MyLink infotainment systems; meanwhile, an all-new version will debut in the 2014 Impala. The Siri functionality, announced at the Los Angeles Auto Show 2013, allows a Bluetooth-connected iPhone to play songs, switch sources from AM/FM/XM radio to iPod mode, trigger calls to contacts, handle messaging, and the calendar, all by verbal instruction. It's not the sole preserve of big-bucks Chevys, either, with the car company opting to debut the tech in its more affordable models.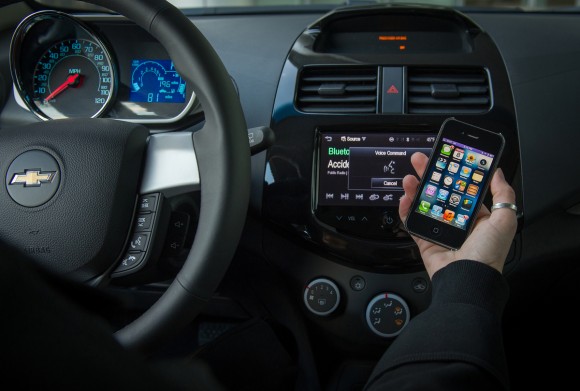 There's also a new Eyes Free mode, which keeps the iPhone's screen turned off and relies solely on voice feedback from Siri, so that the driver can stay focused on the road ahead. That also means that the sort of complex queries which would usually trigger a web search won't prompt to look online.
In order for it to work, the iPhone or iPad must be running iOS 6.0 or above; then it's a case of pairing it via Bluetooth with the MyLink system. The steering wheel "Voice" button triggers Siri from that point on.
Chevrolet Spark iPhone Siri integration demo:
[youtube id="WKyRCqC_KY4″ width="600″ height="340″ position="left"]
Via: SlashGear