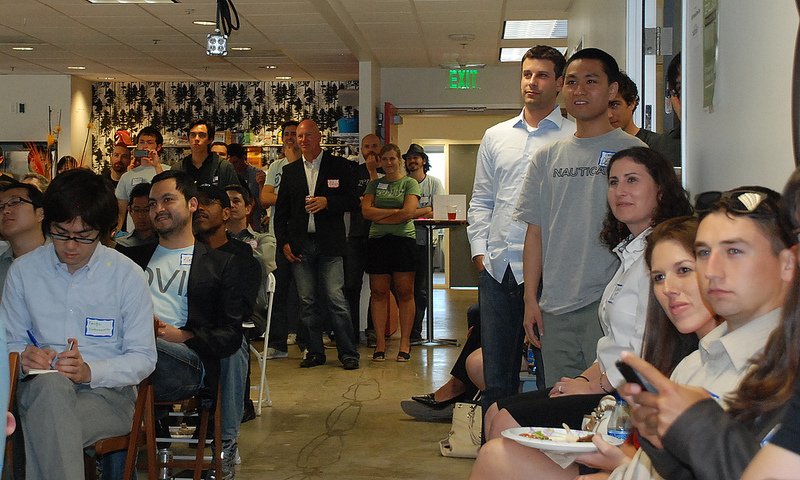 [ This article has been contributed by Surbhi Dangi, our community builder from Silicon Valley, US]
The 6th batch of accelerator companies from Silicon Valley's 500 Startups took on the stage in front of a couple of hundred potential investors and the media at the Microsoft campus in Mountain View, Calif. to showcase their products and vision today. The group of 28 incubatees will take on the stage at San Francisco and New York City in the over the next few days.
The sixth batch was announced in May and has been the most international of them all, with 71 percent coming from outside the US, including startups from Africa and the Middle East. While I would love to talk about all 29 companies that have presented today, the sheer length of that article will get you right to lalaland, here are the 5 Indian startups that are looking to make it big from this group (in alphabetical order).
Credii – Founded by Ayan Barua and Vamshi Mokshagundam, Bangalore-based Credii automates the time-consuming and data-intensive process of shortlisting and selection that a business has to go through while sourcing software and IT services. Currently, Credii is in closed beta, but sign up and you might get a sneak-peek into their platform.
PriceBaba – PriceBaba is a location-based price search engine for mobile phones. The Mumbai-based startup was founded by Ankur P Agarwal and Tirthesh Ganatra (lead developer), and the site went live in May 2012. This online platform enables shoppers to search for mobile phone prices offered by nearby brick-and-mortar stores.
School Admissions – Very simply, School Admissions is a service that helps parents choose the right school for their children. The platform has been active in theDelhi-NCR region with more than 40,000 parents using it to find schools for their children. This Delhi-based startup was set up by Rajan Arora and Puja Arora in 2007 and was earlier incubated by the Indian Angel Network.
Seat 14A – A rather unusual name, Seat14A is a private label men's fashion and lifestyle e-store. Complete ensembles can be purchased from Seat14A, they do not ship solo items (might be a dampener for price-conscious Indians). The company has been started by Nav Chatterji, Tarun Arora, Adi Sahay and Jas Banwait.
Tushky – Set up by IIT Bombay alumnus Talvinder Singh, Mumbai-based Tushky is an online marketplace for listing, exploring and booking tours, activities and more. They have been around since August 2011 and secured angel funding of Rs 35 lakh from a private investor. The startup was also a part of GSF Accelerator's inaugural batch.
Living in the Valley, it is inevitable to meet these entrepreneurs networking and coding away at startup events, meetups, coffee shops and hacker dojo's in the area. Stories on how they began to become what they are today is what interests me the most, but more on that in a follow up post. For now, I am thrilled to see my friends deliver flawless Demo's today and I wish them all the very best for the upcoming Demo days in San Francisco and New York City.
Not in the Valley? Show your support by tuning into the program's livestream here.
Image Credit: Shirley Lin