If you are one of those people who have lots of varied tasks and need alerts/alarms/notifications for keeping on track and getting things done, then Finish is a lovely, no-nonsense app that you should definitely consider.
The app costs $0.99 and is available on iTunes. This app differentiates itself from the other apps in this crowded space by grouping tasks based on their due dates. Each task is categorized as short term (0-2 days), mid term (3-7 days) or long term (8+ days), though users can change the length of each if they wish.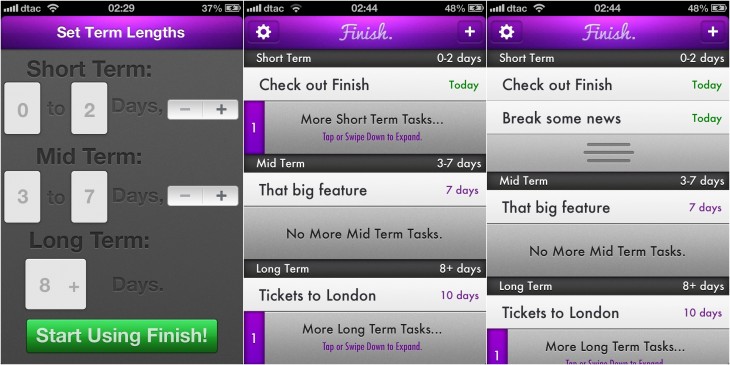 I like the way the categorization is done mainly because this helps in giving you a heads-up by giving proper shape to prioritization in your task list. The app has push notifications to keep you up to date on what is due. The list view shows one task from each band by default, but you can expand it to show each task in the category simply by tapping it or swiping down on it.
You can easily interact with tasks by a simple swipe to the right which will give you more options to work with the task. You can also share it to Facebook and Twitter. Finished tasks are marked separately and stored in their own category.
The only small downside to this app is that it does not allow much options for integration with other platforms. By this I mean, it would have been nice to be able to integrate it with your PC or Mac as well so that handling tasks would have been easier.
[vimeo id="57508700″ width="600″ height="340″ position="left"]
So, go ahead and give it a try. Do let us know about your comments below.
Image Credit: TNW