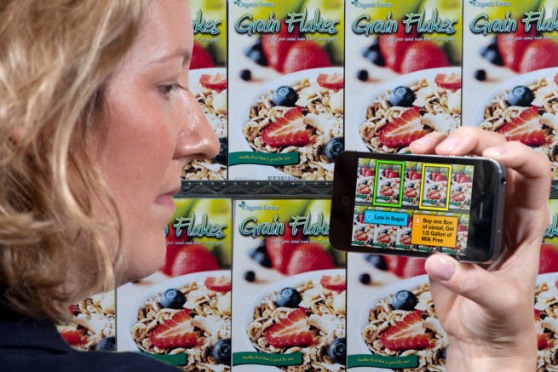 Good news for shoppers. IBM has unveiled an augmented reality mobile app that lets you pan store shelves with your smartphones to receive personalized product tips, recommendations, and coupons.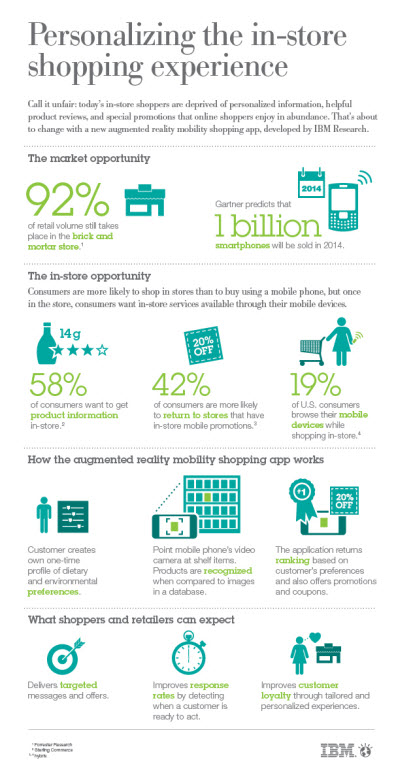 The app is one more example of a creative use of augmented reality, which blends digital data with real-world imagery. The app brings the benefits of digital commerce to traditional brick-and-mortar stores, where 92 percent of retail still takes place, according to market researcher Forrester Research.
As you enter a store, you can download the app on a smartphone or tablets, register for the service, and create a profile of features that matter to you, such as ingredients you're allergic to or your favorite foods. Then, as you browse the aisles and point your phone's video camera at merchandise, the app will recognize the products and overlay digital details on top of the images.
You'll be able to see info such as ingredients, price, reviews, and discounts that apply that day. If you opt in, data from your social networks can be integrated into the data stream. If a friend reviewed a product that you're looking at, the app will flag that review.
You can tell the app that you want a cereal brand that's low in sugar, highly rated by consumers, and on sale at a low price. Then you pan a shelf of cereal boxes, and the app reveals which cereals meet the criteria.
"In the age of social media, consumer expectations are soaring, and people want information and advice about the products they're going to buy," said Sima Nadler, IBM Research's retail lead. "By closing the gap between the online and in-store shopping experience, marketers can appeal to the individual needs of consumers and keep them coming back."
The app is the result of work by IBM Research scientists in Haifa, Israel.
Retailers who adopt the app can connect with consumers by turning marketing into a welcomed service, not an intrusive one. The app can also help retailers understand consumers better, based on their likes and dislikes. And it could make loyalty programs and digital coupons more convenient for shoppers.
The app integrates with the retailer's back-end computer system, powered by IBM Smarter Commerce software, which delivers info to the consumer's device.
Credits: IBM