Plug in your earphones or shout this out in a boombox, stop glaring at news headings for now. You can brush your teeth and hear the audio news simultaneously. This multitasking can save your time to read newspapers. This article is the review of NewsDeck120. I hope you like it!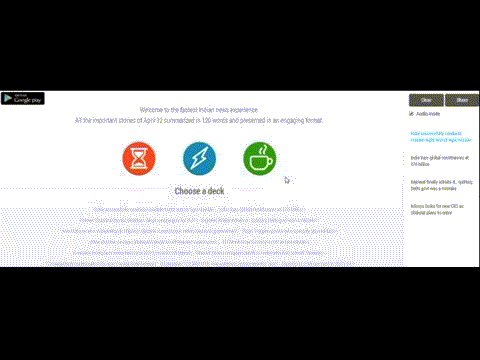 Intro of NewsDeck120
[pullquote]People shouldn't have to adapt to news. News should adapt to people. [/pullquote] Curated and handpicked news stories from the major sources summarized and presented in 120 words. We feel that the majority of India miss out on mainstream news due to many factors like their fast-paced lifestyles, social content overload or simply the non-appealing nature of present media. Harsha and Venkat Dinesh are the founders of NewsDeck120 and Vivek Srinivasan is their mentor.  A team of two, both geeks with great enthusiasm and complementing skillsets working on this venture.
Harsha is the server, dev-ops and web frontend guy. An electronics and communication engineer by degree, his initial stints were with systems programming at Cisco systems and as web developer avatar at two other startups (Thinkplaces and Hatchstation). Venkat is the app and design brains of the product. He is a seasoned mentor with Google Developer Group Hyderabad and has a bunch of highly-rated Android apps under his belt. He's worn may hats from designer to developer to marketer in his previous startups. Apart from these 2 co founders, they have 2 interns who are into editing and proofreading the content of the website.
Click page 2 for more…