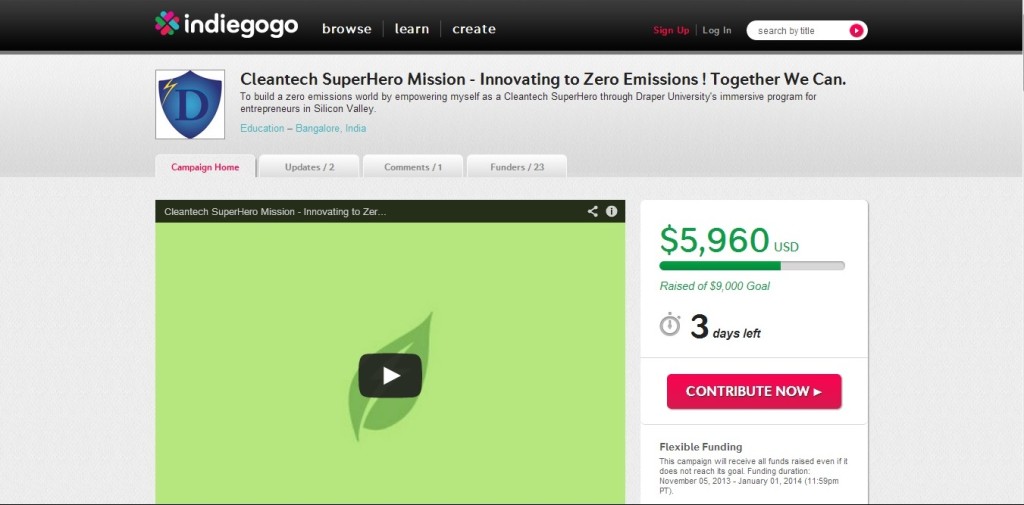 It is indeed a proud moment for all of us that Raman Shrivastava  is selected into Draper University happening in Jan 2014. His dream project, Aforia  is what got him selected and Raman has been crowdfunding on Indiegogo to get the funding needed to attend the Draper University.
What is Aforia?
Aforia can be described as an engineering and design driven startup with a focus on sustainability related products. Aforia is working on sustainable mobility which is it's short term goal and the long term goal is to launch low cost electric cars in the emerging markets.
Presently, they are working on a hardware product with a mobile application which will help make driving smarter and efficient by providing the following-
– Engine Diagnostics
– Add Social experience to driving
– Gamify driving
– Give data about driving performance which would help people optimize their driving style and hence save fuel.
Raman also plans to present this idea in the Draper University Demo Day to raise funds for this project.
 Crowd funding campaign
Mr. Raman Shrivastava is selected for the exclusive 'Draper program' of the Draper University. The program would enhance his entrepreneurship skills and enable him to realize his dream.
The only problem Raman  is facing is the course fee of $9000, which he is unable to meet as he has invested his savings in developing the prototype. Hence, he has taken crowd funding as a source of financing the course and is extremely thankful to every person who has contributed no matter how little may it be.
So far, the campaign has accumulated $5960 and has Rajan Anandan donate to it.
The Campaign ends on Jan 1st 2014. If you think Raman's startup will help make our world a better place to live – please contribute or share across your social network.
For contributing, please visit www.cleantechsuperhero.in
Watch Raman explaining about his venture & the Draper University here, along with the appeal :
Raman had ealier worked with HeadStart Ventures and as Lead-Business Development for Digital Media startup called Lukup. His last role before starting up was at Indian Institute for Human Settlements (IIHS) which focusses on urban sustainability and making cities in India and globally more livable. Working at IIHS opened him up to the vast challenges our world is facing w.r.t. sustainable development and climate change, and hence he decided to become cleantech entrepreneur.
Draper University was started by Tim Draper – one of the most reputed Venture Capitalist in Silicon Valley who has identified and invested in disruptive companies like Hotmail, Skype. This 7 week program organised by Draper University offers intense training to build critical skills and optimal mental framework to embark on a high impact entrepreneurial journey. People who teach at Draper University are experts from the industry, successful entrepreneurs and VCs which enables tremendous hands on learning. Some of the past speakers include leaders like Elon Musk, Andy Tang, Ron Johnson, Bill Campbell, Bob Metcalfe and has some of the best mentors like Tina Seelig.