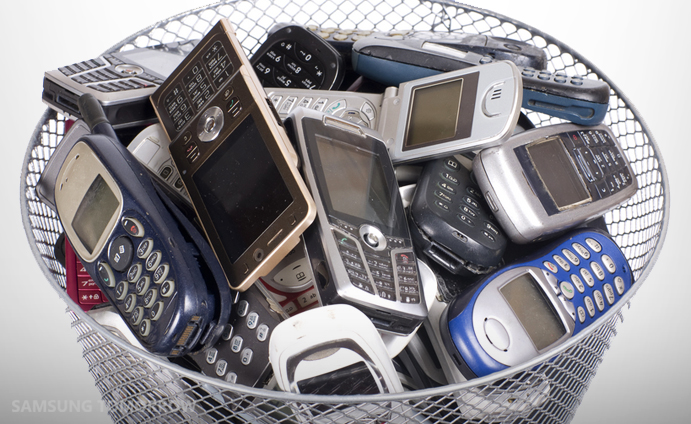 Samsung launches Galaxy Note 3!
Lenovo launches IdeaPad Flex 15!
With technology advancing rapidly in line with Moore's law and giants like Samsung, Dell, Lenovo, HTS etc., churning out gadgets at a frenzied pace, it comes as no surprise that you would want to flaunt the latest gizmo that has hit the market. But what do you do with the present cellphone or laptop that you own? One, you could either pass it on to your kid brother or sister, but chances are slim that they would want to own an obsolete gadget; Two, you could place an ad on one of the many online classified ad sites like Quikr, Sulekha or OLX and hope to find a buyer who is genuine, is willing to pay the right price and finds you at the earliest so that you can rush to the market to buy your dream gadget; Three, you could just leave your cellphone or laptop in a drawer and lock it away.
There is a fourth option now however that you could explore and is guaranteed to get you the best price for the gadget that you plan to sell – you approach one of the Recommerce companies in India such as YNew or Budli.in who would evaluate it and give you the best price almost immediately.
Recommerce? What is Recommerce?
Wikipedia defines Recommerce or reverse commerce as the recovery of products over electronic systems, such as the Internet, or through physical distribution channels.
According to Rohit Bagaria, Founder & CVO of Budli.in, a Kolkata-based Recommerce company – "The Recommerce model is an evolution and extension of the e-commerce Model. In e-commerce, the user pays the seller and the seller ships the product to him. In Recommerce, the seller ships the product and gets paid for it." He goes onto add that, "Recommerce is all set to explode and have an enormous impact in India. It is environment friendly, and will allow access of technologically advanced devices to a wider section of the society."
In a nutshell, Recommerce refers to a practice in which those who have bought products can "sell back" obsolete or otherwise unwanted products in exchange of cash or a different product. 
Why Recommerce?
Dashradh Ram Nutakki and Mitesh Majithia founded YNew, India's first Recommerce venture promoted by Sloyd Ventures Pvt. Ltd., based out of Hyderabad in April 2013.
Nutakki says – "There has been a positive trend in the Recommerce space in the last few years. If you look at the automobile industry, the Recommerce of used automobiles is being done in an organized manner. However, such an organized setup is absent in the Recommerce of consumer electronic gadgets. YNew aptly fills this gap to provide the benefits of organized processes to the end consumer.
Secondly, the performance of the primary commerce in consumer electronic devices is highly encouraging. The last 5 years or so have witnessed a huge growth in the sales of new gadgets and the upward potential in the market is colossal. Recommerce in an industry is possible if the primary commerce is strong. Hence, Recommerce in the consumer electronic devices space is bound to grow exponentially in the coming years.
About 50.5 million new gadgets are expected to have been sold in India in 2013. This translates to a market value of US$ 17.3 billion or Rs.952.5 billion. Of this, 0.72 million used smartphones are expected to have been sold in 2013, translating to US$105 million – which is huge.
Finally, the changing consumer demographics are doing their bit in driving Recommerce in lifestyle gadgets. Increasing household incomes and brand awareness are prompting people to purchase the latest gadgets from reputed brands, and as such more and more used gadgets are increasingly reaching the Recommerce market. Every better valued consumer trend will stay for the longer term and this current trend is here to stay for the next decade or two."
Bagaria feels that, "There is immense potential for Recommerce in India. There is an unfulfilled need in the market which Budli.in is addressing. A large number of people have used gadgets. As technology penetration increases, this need is going to explode in the near future. The options to sell these gadgets in a fast, simple and convenient way and obtaining a fair value for them is limited. The user experience while using Online Classified Ads sites is at best YMMV (Your Mileage May Vary) – the seller does not know after listing his device when it will sell, at what price, authenticity and genuineness of the buyer, price haggling etc. People require a convenient, fast and simple way to sell their used gadgets which many times is just lying around losing value."
Challenges in Recommerce in India
Like all new concepts, Recommerce too is bound to hit a few stumbling blocks before it is set to take off in India. When asked about the specific challenges that they face in India, this is what Nutakki and Bagaria have to say.
Nutakki lists out the three primary challenges that could hamper the growth of Recommerce in India –
Technology Obsolescence – Technology obsolescence and shorter product life cycles of gadgets can pose a greater challenge as Recommerce can happen only when there is an element of aspiration to own products at an affordable price but are not obsolete.
Supply Liquidity – It is always a challenge to assure a consistent supply liquidity across geographies (without which Recommerce cannot happen).
Logistics Costs – Increasing logistics costs can play a role in discouraging Recommerce companies to cater to tier-2 and tier-3 markets, as the margins in this industry are usually thin. Inflated logistics costs will eat into the margins and discourage the industry players to carry on Recommerce.
Bagaria too feels that logistics is one of the biggest challenges. He adds, "since it is a new concept – creating awareness, establishing trust and credibility are some of the other challenges that the Recommerce industry in India faces." However, he is optimistic when he goes on to say, "these challenges are similar to what was faced by the e-commerce sector when it started off in India some years back. Today it has become widely accepted."
On founding YNew, Nutakki says, "YNew is the first mover in this space and every first mover is bound to face certain challenges. The biggest challenge is to find good talent in a virtually non-existent industry. The difficulty in finding skilled or trained resources will remain till this industry gains credibility and some limelight.
Another challenge is that in spite of having good potential and greater consumer awareness, there is still a stigma against used products that is prevalent among the masses. While our efforts towards removing this stigma are yielding results, it may take some more time to eradicate it.
Other challenges include a lack of regulatory framework, absence of a business ecosystem, price sensitive consumer behavior, and a highly fragmented market."
Opportunities and Future of Recommerce in India
Both Nutakki and Bagaria are very optimistic about the future of the Recommerce industry in India. Nutakki is of the opinion that, "going forward, Recommerce in consumer electronic devices in India will witness a steep growth curve. The industry is set to grow at a CAGR of more than 35% between 2012 and 2016." Echoing a similar sentiment is Bagaria when he says, "there is no organized industry in India for used gadgets yet even though the market size is huge. Recommerce has immense potential to organize this unorganized sector. "
Talking about the employment opportunities that Recommerce opens up, Bagaria says that, "it is going to bring numerous employment opportunities in India in the areas of Marketing, Technical Inspection, Customer Service, Logistics, etc." Nutakki is of the opinion that, "Recommerce draws many similarities from the retail and e-Commerce domains. Hence the skill sets required to work in this industry will be an amalgamation of these two domains."
Advice to entrepreneurs who wish to foray into the Recommerce space
For those wishing to setup a business in the Recommerce space in India, Nutakki has this to say – "Given the nascent stage of the Recommerce industry, many things need to fall in place before one can reap maximum benefits out of it. Added to this is the fragmented nature and absence of an ecosystem to support a business environment that is conducive to the industry players. This implies there are many entry barriers that one has to consider. Hence, it is in your best interest to study and analyze the industry top-to-bottom before taking the plunge."
"As is the case when creating something new, it is an interesting, exciting, challenging space in India with immense potential," says Bagaria.
Pioneers in the Recommerce space in India
YNew
YNew was founded by Ram Nutakki (36) and Mitesh Majithia (41) in April 2013. Ram graduated from Bangalore University and has completed his PG in Management from Siva Sivani Institute of Management, Hyderabad. Mitesh is a mechanical engineer and has completed the OPM (Owner/President Management) Program from Harvard Business School.
YNew currently offers two services:
1) Consignment and Sale of used lifestyle gadgets: Through this service, YNew offers a convenient platform to sell and buy used lifestyle gadgets including smartphones, tablets, laptops, desktops and flat panel televisions. YNew offers value to both buyers and sellers by providing convenience, value for money, and a hassle-free experience. The consignment of products includes their testing, certifying, fixing an Ask Price for the product and selling it to aspiring buyers.
Value Proposition for Buyers –
Unmatched shopping experience to facilitate informed purchase
Choice of reputed brands and variants at multiple price points
Tested and Certified Products
Transparent product rating and pricing
1 month of free service warranty
Extended service warranty at an affordable price
Free home delivery
Value Proposition for Sellers –
Showcase to unlimited buyers
Added trust and credibility due to certification of products
Better "Ask Price" based on transparent product rating
Refurbishment services
Convenience of free product pickup
Success-based transaction fee
2) Repairs & Troubleshooting of Smartphones/Tablets, Laptops/Desktops: Servicing of gadgets is currently available only
for smartphones and PCs. YNew caters to both home and office users through in-store repairs or on-call services within a store's territory. All repairs and services are carried out by qualified engineers and the range of servicing includes repairing small gadgets to infrastructural and networking setup in small business enterprises.
YNew was recognized as a first-mover in the Indian Recommerce space and was listed in the "5 Unmissable Asian Consumer Trends For 2014" by US-based consumer market research consulting firm trendwatching.com.
In addition to the individual buyers, YNew lays emphasis on the Startups, SMEs, and NGOs. Such enterprises depend on Recommerce for the benefits like lesser capital expenditure and value of money.
YNew is looking to roll out 50 YNew stores by 2016 across India and clocking a turn-over of Rs.100 crores to gain the market leadership position in recommerce. YNew's expansion will be solely through a franchising model.
Budli.in
Budli.in was founded by Rohit Bagaria (35), a Post Graduate from UC Berkeley, California, in June 2013. Budli (meaning 'Exchange' in Hindi) allows users across India to value and sell their used gadgets like Smartphones, Tablets, Laptops, iPods, instantly and directly to the company. An instant online price quote, free shipment pickup from most parts of India and prompt direct payment to the seller is provided.
There is also an option to monetize the gadget and donate the proceeds to a charity on the seller's behalf.
Budli.in offers a consistent, curated, controlled selling experience to anyone who wishes to sell their high end gadgets across India. Their USP is
Speed
Convenience
Value
Transparency
Risk Free
Simplicity and
Environment-friendly
In the near future, the company plans to start online sales of 'Budli Certified PreOwned' gadgets which will allow users across India to buy high end gadgets, duly inspected, at very affordable prices.
Budli.in was selected as one of the top startups from India to take part in the Dublin Web Summit, 2013.
Featured image credit: samsungtomorrow