Teens think of movies and businessmen think of flights when they are told to "book a ticket for Sunday". This article does not sway away with the fact like every other articles you will find here only movies tickets. Events, Movies, Games, News & Info, Railway and Airline bookings are kept in mind and an article of  Top 10 Ticketing Platforms in India has been prepared. Have a look why we chose them.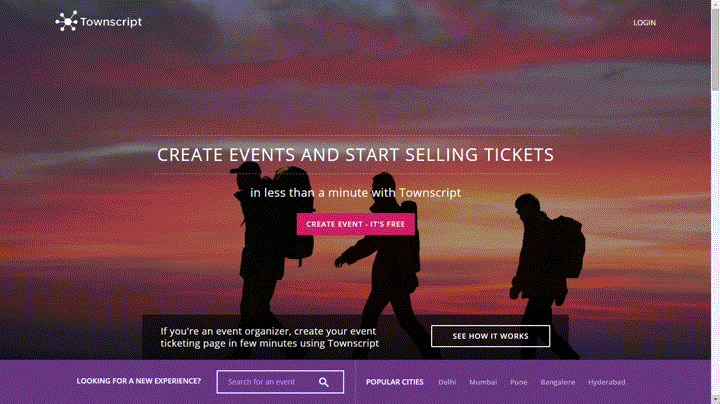 If we want to include a ticketing platform in this list, Townscript would be #1. With crazy exponential statistics of user growth, lesser attrition rate of National:Local events as compared with other ticketing platforms, and with an kickass team, Townscript is doing growth hacking to provide their customers a vast assortment of events they can choose from. Townscript got funded in January of 2015 and since then they have optimized the resources to outmuscle every other ticketing platform in India.
Also known as Ayojak.com, it has been 1 year and the response is outstanding. Ticket of every major events happening in every remote areas of India are available in Explara.com. For any of the event, you can call 096996-11666 or email to [email protected] to have a ticket. You can select your seat if it is a cricket match or sports match and select number of tickets. Then you can checkout the selected tickets.
TicketGenie has already gained upperhand over all the ticket platforms available in India. launched in 2008, they have succesfully managed to have ticket platforms for Shakira, Beyonce, Bryan Adams, Rolling Stones and sporting events like IPL. They also provide solution for ticket designing, printing and distribution.   Ticketgenie has accomplished a milestone of selling maximum events and event tickets ever in the country's history and is poised to grow into one of the largest e-commerce portals in the country. With features like these, it is impossible for anyone to overlook TicketGenie.
BookMyShow wins in the battle of ticketing platforms in India. It is not about the approach for its customers, not because the database that they possess of events and tickets but because it's easy to use GUI. Filtering is very easy as you can browse the tickets w.r.t calender and genres. Andorid, BlackBerry, iOS and Windows app have been running glitch free and undoubtedly BookMyShow reigns the territory. "India's Largest Entertainment Central" – enough said.
Kyazoongs shows you important events all over the country without any filter. So the basic thing you can come up with is – if you need to see major events happening in India, Log In to Kyazoonga.com. Launched in early 2007, KyaZoonga is India's first and largest entertainment and sports ticketing company. Kyazoonga holds records in the Indian subcontinent for having tickets for the ICC Cricket World Cup 2011, all forms of international cricket (ODI, Tests, T20s), several domestic cricket leagues and matches and Olympic style multiple sporting events and venues
Probably the biggest music and artist ticketing event platform in India – IndianStage.in; Artist performing live in upcoming calender can be easily found here of any genre. 24×7 customer help service and sort-by-city feature enables visitors to stay in the page and probably. Launched in 2008, IndianStage remains biggest ticketing platform in India.
BookMyEvent is an allrounder for ticketing platforms in India. Usually other ticketing platforms are expertise in either movies, or events or any single domain, but BookMyEvent counts in for Movies, Concerts, Play, Theater, Events, Musical nights, Shows, Registration for Education Events, Sports – name anything that it does not have. You have a dropdown choice in the website and you can go further for filtering the tickets.
Targets Bangaluru, Mumbai, Chennai, Pune, Hyderabad and Delhi. All the major events are listed in MeraEvents where you can purchase any ticket, be it marathon or music. Founded in 2009, MeraEvent is one stop shop and offers day to day listing of events, reliable online-services including registration and payment, quick access to every aspect related to events, an active interface for all concerned and medium that saves time and costs.
Let us include AskLaila to ticketing platforms of India list because whatever you do, you cannot exclude the people's champion. People usually search for movies in the cities, but they don't know Asklaila is also one of the major platform for examining Restaurants, Shopping, Nightlife, Best Deals, Entertainment, Spa, Salon, Doctors, Schools, Events and more – with user reviews and recommendation. Founded in 2009, they have been grown a lot.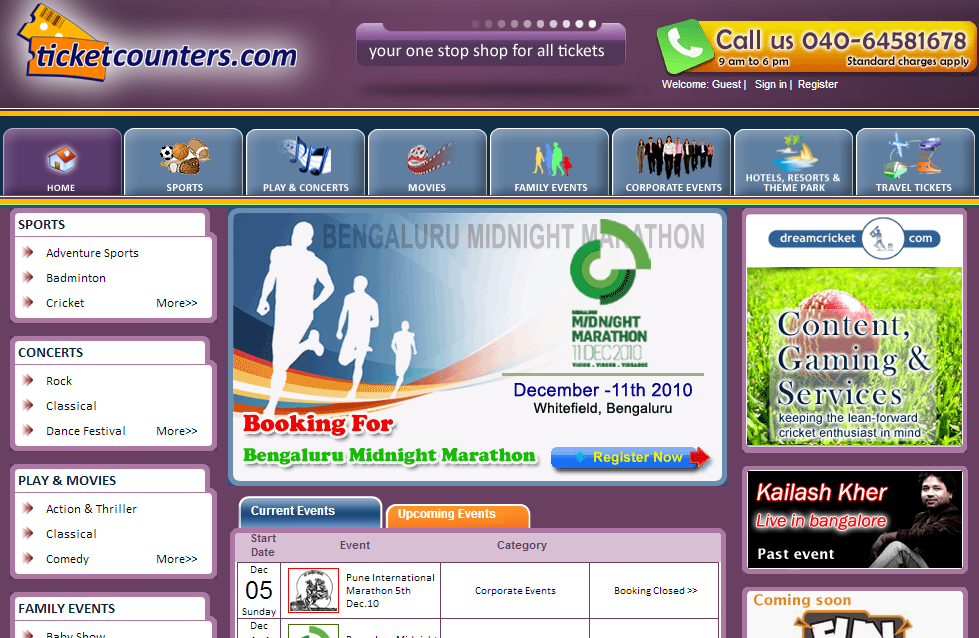 This is famous for corporate events. But you can easily browse Sports, Concerts, Movies, Family Events, Hotels, Resorts, Theme park & travel ticket. The website is Bangalore based and has gone viral, do check it out.
Where do you book your tickets? If we have missed your favorite online ticket destination, do let us know in the comments.