Loved by the community, Testify is one of the first apps in the world which lets you record, edit share and create collaborative videos with people from all around the world. The app is released on Android Google play. You can download the app from here.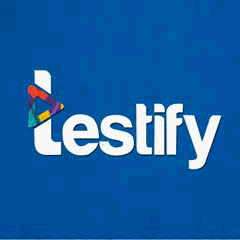 Have you created a dubstep video for your loved ones on their birthday, and collated them all by compressing and editing? Omit these steps and use Testify app whose features include adding filters to videos, trimming, fast forwarding, adding subtitles, and appending videos to create video chains to others' videos, whether they're your friends or not. One can also record what's happening on their mobile phone's screen through the app. There aren't any apps out there in the play store which provide you all these features together.
What makes it unique is the clean, ad-free UI and quality video editing within a short time. Most apps available out there do one of the functions but miss out on the others. Testify is more fun because one can edit and also create videos in collaboration with other people with just one tap!
The founders of this app, Garima Juneja & Gaurav Mishra have previously founded and running a profitable digital marketing company, ViralCurry since couple of years. They recently raised seed funds to create this innovative application owing to the increasing smartphone penetration and social media time of audience.
The team says they created this app when all their friends used to live in different countries and they needed to wish birthday in videos to a friend in India. Everyone had to send their videos separately and then someone had to use different software and apps to append the videos, add effects, stickers, then compress the videos and share with them on social media or email.
They also found a need for such an app when their media clients and friends asked them to go and record videos of the brand's clients, add subtitles etc and then make small 30 second – 1 minute videos and post on social media.
There is a lot of scope for fun and value in the features that are provided in the app because people can create video chains of things, cultures, scenes and people all around the world on the same theme.
The app revolutionises the way the world communicates with each other on same topics. If someone in Paris records a video for support towards Floods in India, people from London, New York, Russia, and any other country can contribute their videos in the same chain and get it trending!