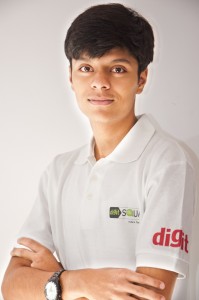 Are you in the final year of your college and confused whether you should join an MNC or start your own venture? To be or to not to be an entrepreneur is perhaps the single most difficult choice to make right out of college. Especially in India there is too much pressure from the family and friends to not do something crazy and instead fit in with the crowd.  This article is for all those confused souls. Today we have a chat with Dinesh Modi, the founder of Innovations and one of the youngest CEO of Nasik, about his entrepreneurial journey that began from designing his first website at the tender age of 14 to being nominated for Big Research (NDTV) Business Excellence Awards for "Best Web Design Service in India".
Passion for computers
Since childhood, gadgets were something that caught my attention. I was always fascinated by latest technology and sci-fi movies. I was curious to know how they work and this urged me adapt myself to latest technologies. Initially I was very interested with Hacking. I was a Script Kiddie then, then I slowly started to freelance and launched my first website for a client when I was in 8th standard in school. Currently, I am pursuing Bachelor of Engineering in Information Technology from the University of Pune; had it not been my passion for IT, I would have never entered Engineering!!
Childhood
Initially, I was known as a sincere, confident and a reserved guy. I don't open up to people soon. I have been a bright student throughout my life and have never had any trouble with my studies. As I belong to a large family, there were huge expectations from me and I have fulfilled them without any pressure. I am an alumnus of Don Bosco High School and my teachers have made my foundation very strong. I was interested in computers from an early age and spent a lot of hours glued to the desktop. My parents have always supported me in achieving my dreams.
Engineering life
My life took a sudden twist when I was in Class 12. Even though I had prepared well for my exams, due to some health reasons I could not give my best shot at the Graduation Entrance. I was quite devastated as I had shattered the hopes of so many well wishers. All my relatives thought I had lost interest in studies as I spent too much time on computers but my parents stood by me. They were my pillar of support during the tough times and got me admitted in an engineering college albeit under management quota in Information Technology department.
I was in the town's best college yet there was pressure to prove myself and the fact that I got admitted under management quota always pricked me personally. I had a terrible beginning in college and by the end of the first year had 3 backlogs; another one and I might have been suspended for a year!
But things changed for the good soon. In my first year at college, I participated in the technical symposium conducted by my department, "ITIAZZA", and won the first prize in the state level Web Designing competition. Our Head of Department Prof. Dr. Preeti Bhamare, smiled at me and said, "We are proud to have you in our department".  I never thought that this single line would take me places. I rediscovered the hidden talent in me, gained my confidence, cleared my backlogs in the next immediate semester and there has been no looking back since then.
Four years down the line, I have participated in more than 6-7 National Web Design contests conquered them all.
I am currently in my last semester with the tag of Class Topper as well as the Best Outgoing Student in my bag J
Journey as an entrepreneur begins
In my second year of engineering itself, I was aware of the placement scenarios for the engineers and moreover the thirst to recover the management quota fund back made me form "Innovations" in Jan 2011. I wanted to go far and hence I started early. News about my skills spread through word of mouth and soon I was flanked with more offers than I could handle personally! I started with small websites and then expanded my services as well as team. 2 Years down the line, a firm I operated single headedly now has more than 24 employees and 40+ freelancers.
About the Team
Just like the company name, I always used to do something constructive on the internet. I formed a Facebook Group, "The Computer Geeks" and added geeky people who could share and discuss on random geek stuff. A mutual friend of mine added Kartik Rao to the group.  I had heard the name a few times through my friends when I used to ask them "Who solved your xyz problem ?". Even Kartik had heard about me the same way. We decided to meet up and planned to do something for the city. Innovations was already 7 months old by then and though we could not proceed with our initial plans due to funding limitations, we became good friends and started discussing random ideas. I initially brought Kartik on board for Innovations Codeless Web Design Workshop but as time passed and as Innovations began to grow, Kartik was soon made the Vice President of Innovations. I met my other senior team mates, Rohit Tanpure & Gagandeep Singh through Facebook & mutal friends.
Codeless Web Design – what is it all about ?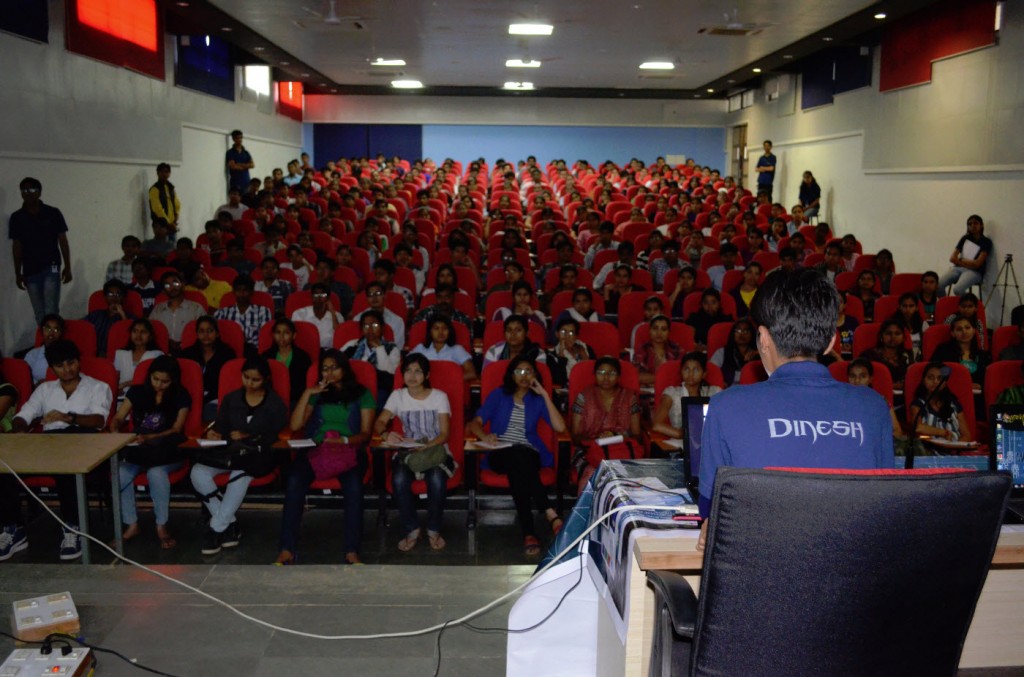 During the third year of my engineering, while studying for practical exams, I realised that not every IT student loves coding; in fact a majority like to stay a feet away from it. It was then that I came up with a unique idea of a workshop, open to all where we train the participants on how to develop websites codelessly. We named our workshop as "Weave Your Web" and started this in January 2012. In the past one year, we have conducted 8 Workshops and trained more than 950+ students. The workshops have played a vital role in our success. The fame and recognition we have today is due to the popularity of our workshops and the craze of our teaching style among students.
Some of our clients
No matter how big or small the client is, at Innovations we are committed to deliver the best always and we give every client equal importance irrespective of their project size. Still to name a very few, We are proud to have Mrs. Amruta Pawar ( Leading Architect in Nashik ) , Balaji Sewing ( India` s Biggest Importer of sewing machines ) , Shri Jyotish Priti Kulkarni (TV Astrologer Celeb) on our esteemed client list.
Future plans
We plan to get our offices and workstations renovated by June and add Android & Desktop Applications development to our portfolio of services.
Moreover, we are also planning to startup a unique e-commerce model for our city.
Well, we hope that was a source of inspiration to all the student entrepreneurs who wish to create their own destinies. Good luck to the Innovations team and hope they inspire more students to consider entrepreneurship as a career option.